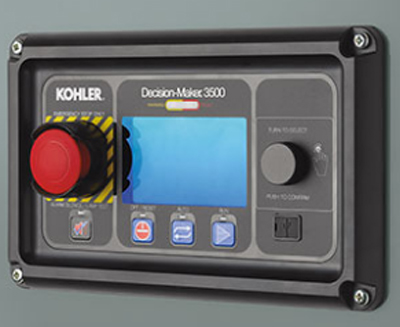 Kohler Power Systems offers a wide range of pleasure and commercial craft applications and also has available single- and three-phase Tier 3 marine diesel generators. They integrate Kohler diesel Tier 3 engines and other enhancements, including improved sound shields and Kohler's highly regarded Decision-Maker 3500 controller (DEC 3500).
These generators are always evolving to meet the diverse and dynamic needs of today's boat builders and pleasure craft owners alike. These models reduce sound levels with an air induction silencer while also delivering the performance and peace-of-mind that comes with our Kohler Tier 3 diesel engines.
In addition to enhanced sound-dampening and engine reliability, users of these models will also benefit from the ability to quickly and easily parallel two or more Kohler generators with a single communication wire, which is delivered through the company's exclusive DEC 3500 controller.
The DEC 3500 controller's space-saving design eliminates the need for oversized switchgear among other benefits, including: built-in load management software, which removes over-fueling issues and the need for exhaust treatment systems; remote monitoring, which provides the ability to monitor and control the generator from anywhere on the vessel; fully potted circuit boards and sealed connectors, which protect against corrosion; and fewer failure points for superior dependability.
For more information, contact South Shore Generator.
Source: PRWEB