January 23, 2017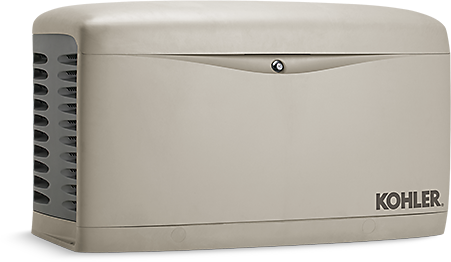 When it comes to storm prep, most people think about stocking up on food and water, picking up flashlights, or purchasing a battery-operated weather radio. One of the most overlooked items when it comes to being prepared at home is a generator.
Kohler offers a wide range of standby generators for every size home and budget. You can select a smaller size generator (8kW) to power a few key systems in your home like your lights and refrigerator, or a larger size generator (30kW) to power everything in the home.
There are several options for homeowners to consider. Most people are familiar with portable generators. In addition to portables, there are automatic standby generators. Standby generators automatically supply power to your home when utility power is lost. An automatic transfer switch monitors utility power; switches power to the generator when power is lost. They permanently attach to your home similar to a central air conditioning unit and run on natural gas or propane.
Depending on the size, a standby generator can power everything in your home, including: air conditioning, refrigeration, lighting, sump pumps and even delicate electronics. You don't have to be home to operate…they turn on automatically and you can monitor remotely.
For more information, contact South Shore Generator in Wareham, MA.
Source: WKBW
---