August 7, 2023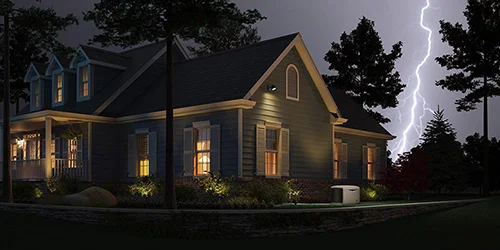 The number of appliances a Kohler standby generator can power at one time depends on the generator's output capacity and the amount of power each appliance uses. During a power outage, your first priorities are most likely personal safety and protecting your home. It may be less important for your electric stove to work than it is for your sump pump to keep the basement from flooding. As time passes and the outage continues, you may want to choose different appliances to supply with power. Knowing how much power your generator can produce will help you determine which appliances can run at the same time and which ones can wait.
Understanding Electrical Power
Electricity is measured in amps (A) and volts (V). Amperage, also known as a current, measures the amount of electrons moving within an electric circuit. Voltage measures the amount of potential energy or force those electrons are under, which creates a current. Electrical power, which expresses the amount of electricity being used by appliances, is measured in watts. Wattage equals your volts x the amperage. For example, an appliance plugged into a 120-volt outlet and drawing 10 amperes of current is using 1200 watts (120V x 10A). Sometimes watt is converted to kilowatt (1kW = 1,000W).
Appliances that are powered by motors are measured in volt-amps (volts x amps) instead of watts. Sometimes volt-amps is converted to kVA (1kVA = 1,000volt-amps). When calculating power for appliances that have motors, such as air conditioners and refrigerators, you have to consider the motor's running and startup current. An appliance with a motor will typically use more power for a few seconds to turn on before dropping to a lower, steady running current. To estimate a startup current, simply multiply the running watts by three for most motors or by six for heavy duty motors.
Standby generators are rated in kilowatts to disclose the amount of power the unit is capable of producing. Kohler standby generators can produce their rated power continuously and also supply additional power to support starting motors for a short period of time. Kohler's 14kW generators can supply 35kVA, and the 20 kW models can provide 40.5kVA to support startup currents of motors as mentioned above.
Power Requirements of Appliances
The amount of power required by an appliance varies by manufacturer. Most appliances have their electrical needs posted on product tags or in an owner's manual. The list below estimates the running watts and starting watts of some typical home appliances. This list is intended to service as a basic guide; however, we recommend you consult with a professional electrician to measure the electrical requirements of your appliances.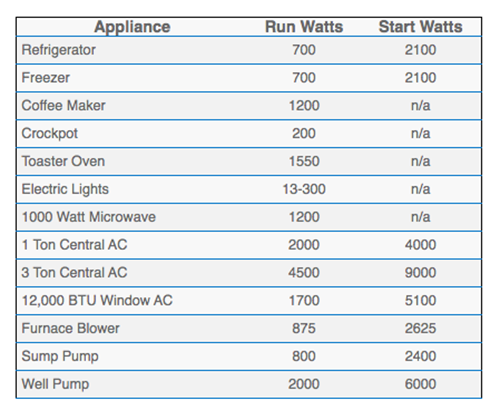 Standby Generator Power Management
Work with your local Kohler Generator authorized dealer to choose a transfer switch for your system. During a power outage, your Kohler transfer switch will automatically transfer power from the utility grid to your generator.
Kohler's generator sizing calculator is a great tool to help suggest a generator for your home, based on the amount of electricity your appliances need. Use the calculator and work with your local Kohler Generator authorized dealer to determine which generator best suits your needs.
Norwall Power Systems was established in 1997. The company specializes in selling emergency backup power generators and associated equipment.
Norwall Power Systems sells and supports many different types of power systems. They have thousands of standby generators, portable generators, marine generators, automatic transfer switches and replacement parts in stock in multiple warehouses throughout the US.
---