October 23, 2017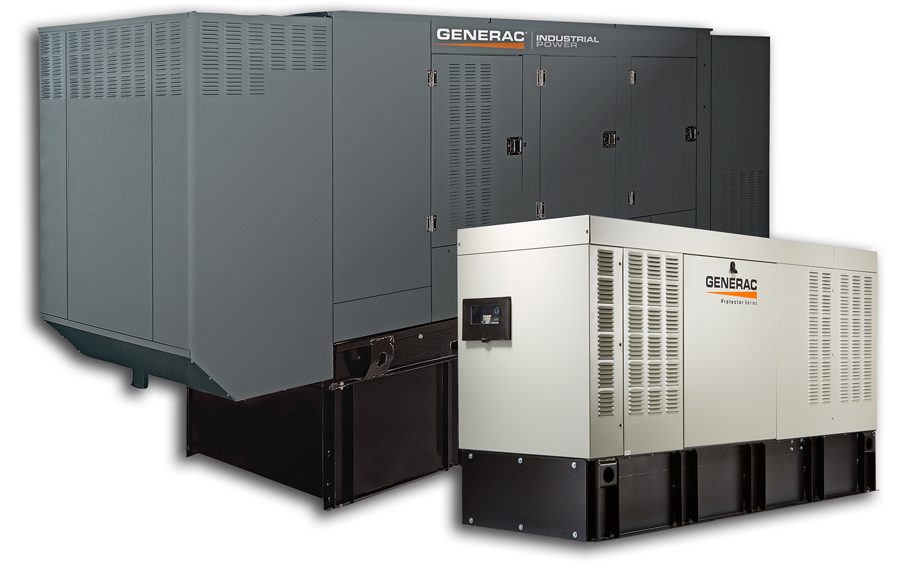 Generac Industrial Power recently attended the 2017 NFPA conference in Boston, Mass. to discuss the use of natural gas generators in emergency system applications with the authority having jurisdiction (AHJ) community.
The reliability of natural gas as fuel for emergency generator applications tends to create interesting discussions within the market. As the standard for standby power generation, NFPA 110, has plenty to say about reliability concerns and best practices relative to adequately maintaining on-site diesel. However, it provides little guidance for the acceptance of natural gas reliability. The National Electric Code (NEC) article 700.12(B)(3) states: "Prime movers shall not be solely dependent on a public utility gas system for their fuel supply - except: 'Where acceptable to the authority having jurisdiction, the use of other than on-site fuels shall be permitted where there is a low probability of a simultaneous failure of both the off-site fuel delivery system and power from the outside electrical utility company.'"
So what is reliable enough? According to a 2013 report by Massachusetts Institute of Technology's (MIT's) Lincoln Laboratory, natural gas distribution systems operate at a reliability rate exceeding 99.999 percent, with the exception of seismically active areas. Incidentally, that makes the natural gas distribution system approximately one thousand times more reliable than a single-engine generator set, which is typically assumed to be 99 percent reliable. To probe these questions, Generac surveyed 110 attendees at the NFPA show with three questions:
Is natural gas acceptable in your area?
The first asked if natural gas was an acceptable fuel for emergency system applications in their jurisdiction. Sixty-four percent replied yes; another 25 percent was uncertain. This illustrated a very high acceptance rate that mirrors the explosive growth in natural gas generators documented by Frost and Sullivan – 38 percent of the total North American market revenue is now natural gas generators, which is up from 28 percent only three years prior.
Who dictates acceptance? What guidelines exist?
The second question asked who determines if natural gas is an acceptable fuel for emergency systems and whether there are guidelines for accepting or rejecting this continuous fuel source. To this question, the respondents identified AHJ & fire marshal by 36 percent, but 43 perecent were uncertain. None of the respondents provided guidance regarding guidelines for acceptance. This highlights some of the challenges that are created when the code uses subjective language and provides little guidance regarding reliability. To that end, the Centers for Medicare & Medicaid Services (CMS) created a guideline regarding the evaluation of natural gas generators for nursing homes. The reliability of a natural gas fuel source can be proven with a letter from the natural gas vendor that contains the following:
A statement that the fuel source is reasonably reliable
A description supporting the assertion that the source is reasonably reliable
A statement of the low likelihood of an interruption
A description supporting the assertion that the likelihood of interruption is low
A signature from technical personnel
Similar processes, which leverage a letter from the local gas utility, are often utilized by the AHJ community when natural gas reliability is perceived as questionable within the market. Another method for determining reliability may leverage the guidance given for determining electric utility reliability in fire pump applications. NFPA 20 A.9.3.2 defines reliable as not having experienced any shutdowns longer than four continuous hours in the year prior to planning. This standard does not require the utility source to be infallible; it only requires a utility source free from routine outages. Using these criteria, most natural gas systems across the United States should be deemed reliable.
What is your personal perception of natural gas?
The last question focused on each attendee's personal perception of natural gas reliability. Fifty-five percent of the respondents felt natural gas was favorable to diesel with 38 percent uncertain. This relatively high perception of natural gas reliability is influenced by personal experiences with hurricanes Irene and Sandy, both of which destroyed the long-standing conventional wisdom that diesel fuel delivery was assured even during the most severe emergencies. Both storms caused enough damage to the petroleum supply networks, making refueling requirements a challenge. Hurricane Sandy devastated fuel terminals across the Northeast. Even if a delivery truck was able to get to a terminal, it was unlikely it would be able to obtain fuel. The available fuel and trucks within the region were often redirected by the government to hospitals and targeted emergency response facilities.
It is incorrect to conclude that diesel fuel, simply by its on-site presence, is more reliable than natural gas. A reliable fuel supply is one that is consistently available in sufficient quantity and quality to ensure reliable emergency power. It is necessary to holistically examine external factors influencing the relative reliability of natural gas and diesel.
The Boston NFPA conference allowed Generac a great opportunity to explore these topics directly with a cross section of the AHJ community. These insights help illustrate that natural gas acceptance continues to grow within markets that have an established natural gas infrastructure. In these markets, the resulting awareness and acceptance of natural gas-fueled emergency generators is quite high.
For more information, contact South Shore Generator in Wareham, MA.
Source: generac.com
---