June 24, 2022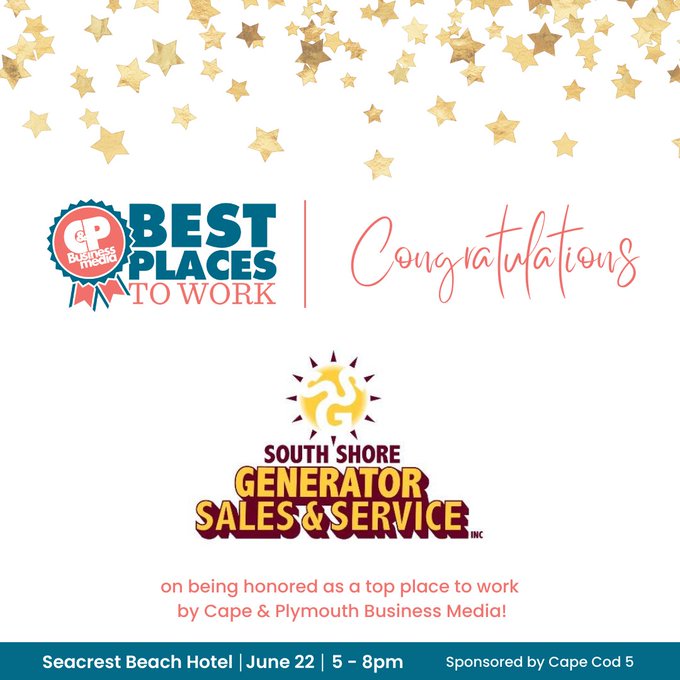 South Shore Generator Sales & Service
2696 Cranberry Hwy #A, Wareham
508-295-7336
eclark@ssgen.com
www.ssgen.com
Company Culture:
Employees' opinions and ideas are often requested so the company can improve business processes and the way we work. This makes the team feel respected and part of the decisionmaking process. The owners are involved with employees and are focused on how they can do things a little differently to set SSG apart from other companies.
Rewards & Incentives:
SSG gives gifts to employees for positive feedback from customers. Employees who work well in the team setting are recognized in the form of additional increases in pay, incentive pay and gift cards. Ownership also puts on an annual event for the entire team, shutting down the business to celebrate everyone who is responsible for the success of the company.
Training & Growth:
SSG provides training at all levels, including advanced schooling along with internal training. There is consistent coaching and mentoring for all. We have technology in place to assist in understanding the team and how it works and other investments to ensure we are training and coaching our employees so they can produce at a high level. This has helped achieve a 96 percent employee retention rate over the last several years.
Hiring & Promotion:
We both promote from within and hire from outside. We have just hired a couple of new people to handle the growth we have seen over the last few years. Above & Beyond: One of our office staff was recently promoted to a supervisory position and is attending training. SSG is dedicated to the success of this employee and is investing in her education and training classes to be sure she is able to perform her new duties as well as she has performed her duties in the past.
Communication:
One-on-one reviews are conducted each year, some quarterly and some monthly so there are never any surprises and the employees are kept in the loop of all things pertaining to South Shore Generator. This helps to encourage even more dialogue about how the company can be better and makes employees feel they are part of the process.
Giving Back:
South Shore Generator believes strongly in supporting and giving back to the community. This includes donations to DECA/Wareham High School. SSC is also a member of the Cape Cod Canal Region Chamber of Commerce.
---