March 8, 2018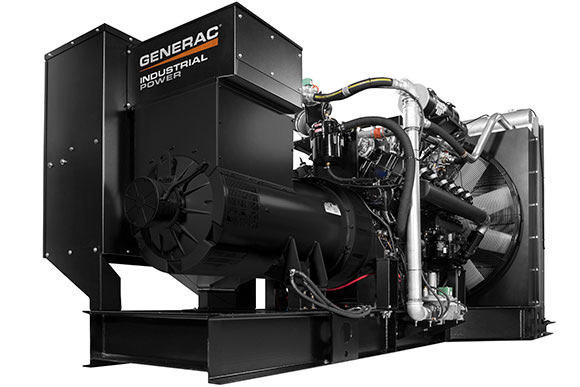 As the leader in spark-ignited power generation, Generac Industrial Power has introduced its largest gaseous gen-set node: the 625 kW unit. Available in single-set or MPS configurations, the 625 kW gen-set is designed for demand response applications as well as emergency standby for data centers, commercial and industrial facilities, healthcare applications, infrastructure projects and the like.
The 625 kW generator is driven by Generac's new 33.9 L spark-ignited engine. Engineered from a proven diesel block, it is the first engine to utilize fuel and spark systems from the company's recent Motortech acquisition. The result is a larger-displacement platform with high power density — a strong competitor to the performance of diesel platforms.
The 33.9 L engine was also designed for high load acceptance and fast transient response, capable of meeting NFPA 110 Type 10 start-time requirements. It has been optimized for use in a wide range of temperatures, from a high of 122 degrees F down to -20 degrees F with a winterization kit.
The engine is U.S. EPA certified at the factory for stationary emergency operations. For demand response applications, it is factory certified for stationary non-emergency operation.
Unique to the 625 kW machine is Generac's new Power Zone® control system. Designed by Generac specifically for its industrial power systems, the Power Zone controller is the first on the market with built-in Wi-Fi, Bluetooth and LAN connections, putting monitoring and control within easy reach of any mobile device or PC.
The Power Zone's on-board 7-in. color resistive touchscreen provides instance access to generator and engine parameters, ensuring the unit is ready and available at a moment's notice. The interface was designed with intuitive icons as well as app-like navigation.
The Power Zone controller also controls all paralleling functions when the generator is used in an MPS configuration. No additional system or master controller is required. Communication between generators is performed with an industry-first redundant Ethernet. A permissive and load-shed assembly is available for MPS applications to sequence multiple transfer switches.
The 625 kW unit is designed to run on natural gas fuel only. It is available as either an open set or with one of three enclosure types: weather protected, Level 1 sound attenuated or Level 2 sound attenuated.
The generator is available for quoting and ordering now, and will be available to ship in the beginning of Q2 2018.
For more information on Gas Generator sets, contact South Shore Generator.
---