January 29, 2018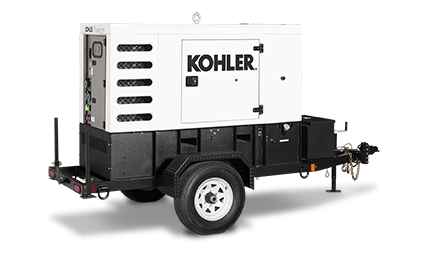 KOHLER® Power. Tough to the core. Easy on the environment.
Quiet, reliable KOHLER mobile generators give you dependable power anywhere, from remote construction sites to public events to storm recovery.
Tough to the core, mobile generators meet your needs, wherever you need them. They're built to withstand the elements and run for long hours in prime and standby applications.
Whatever the application, we can match it with a hard-working mobile unit. Throw in our global service and support network, and you've got everything you need for power that works – wherever you go.
When it comes to creating heavy-duty power for demanding applications, we have diesel engines for the future – with lower operating costs and all the turbocharged muscle you need.
WITH KOHLER® DIESEL KDI ENGINES
TIER 4 FINAL, NO DPF - Cooled EGR helps achieve the industry's toughest emissions standards
LOWER OPERATING COSTS - Direct injection delivers ultra-efficient performance and fuel savings
WITH JOHN DEERE ENGINES
FUEL ECONOMY - Integrated Emissions Control system – cooled EGR, exhaust filter and SCR – results in high power density, high torque and lower fuel consumption
UNINTERRUPTED OPERATION - Passive regeneration, a natural exhaust cleaning process, does not impact power output
GASEOUS MOBILE GENERATORS
Say hello to a new alternative. LP gas is reliable, readily available and refills just like diesel. KOHLER® mobile generators with propane engines offer a 15%-20% reduction in hourly fuel costs.*
INNOVATIVE PROPANE FUEL SYSTEM
Available on-board fuel tanks for 24-hour runtime
Produces fewer toxins and less smog-producing carbon monoxide
No ground spill risk; flashes to a vapor at atmospheric pressure
EASY SWITCH BETWEEN NATURAL GAS AND PROPANE
Quick-connect fill points for external fuel sources of natural gas or liquid propane
Easy switch between LP vapor, LP liquid and natural gas fuel sources for extended power supply
LOWER OPERATING COSTS
Kohler Power Systems offers mobile generators for any application you can imagine, from industrial power to public events. Every model is EPA-emission-certified for non-road use and comes equipped with a rugged, DOT-certified trailer and durable enclosure.
For more information on mobile generators, contact South Shore Generator in Wareham, MA.
Source: kohler.com
---