June 29, 2020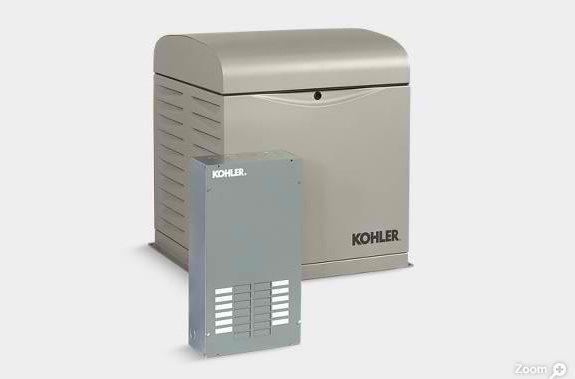 KOHLER generators for backup power provide reliability and performance. When you lose power during an outage or storm, a hard-working 8 kW KOHLER® generator keeps your appliances working, the heat or AC running and your security system on.* OnCue® Plus Generator Management System is standard with every RESV or RESVL generator.
High Quality Power
Kohler generators provide advanced voltage and frequency regulation along with ultra-low levels of harmonic distortion for excellent generator power quality to protect your valuable electronics.
Powerful
The Kohler 8 kW generator can easily start and run a 4 ton air conditioner with up to 5 kW preload.*
Reliable
Kohler is known for extraordinary reliability and performance and backs that up with a 5-year or 2000 hour limited warranty.
Enclosure
Bold new Kohler design in steel, dipped in e-coat for extra corrosion protection and painted with a durable powder coat finish.
Remote Monitoring
Every 8RESVL comes standard with OnCue® Plus, our remote monitoring system, which gives you peace of mind at home no matter where you are in the world.
The Power You Need
PowerBoost™ technology provides power to start large loads such as central air conditioners without dropping power to other appliances
Extraordinary peak motor-starting capacity: 8RESVL at 16.8kVA at 240V
Premium power quality delivers exceptional digital voltage and frequency regulation along with low levels of harmonic distortion to protect sophisticated electronics
Powered by reliable KOHLER SV620 engine with efficient OHV design. operation speed is 3600 rpm (the standard for air-cooled generators)
Compatible with Programmable Interface Module (PIM)
Also compatible with Load Control Module (LCM) with single-phase generators only
The Convenience You Expect
Comes with an RXT 100-amp indoor-rated automatic transfer switch with 12-space load center.
Accepts natural gas fuel pressure as low as 3.5 inches
Quiet, neighborhood-friendly operation with sound levels similar to a typical central air conditioner
Meets 181 mph wind rating
Runs on either natural gas or liquid propane (LPG) with simple switching between natural gas and LPG in the field
For more information, contact South Shore Generator in Wareham and Boston, MA.
---