February 12, 2018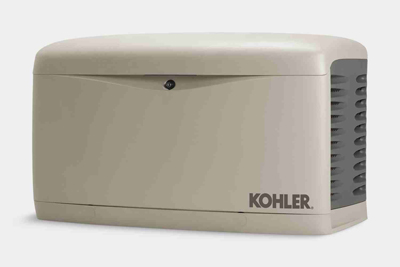 Kohler Generators offers an air-cooled, three-phase generator specifically designed for businesses seeking a more economical, space-saving alternative to traditional liquid-cooled, three-phase generators. The KOHLER 14/20 kW provides award-winning performance and dependability in a smaller, budget-friendly design.
An air-cooled, three-phase generator may be ideal for banks, restaurants, convenience stores and other commercial applications where 20,000 watts or less are needed during power outages. Because the generator is air-cooled, you get all the performance and power of an equivalent liquid-cooled generator in a smaller, more economical package. It's specifically designed for smaller-sized businesses that want to stay up-and-running during a power outage.
The 14/20 kW generator is powered by a heavy-duty, commercial-grade engine designed for harsh weather conditions and heavy use. The generator starts up within 10 seconds of an outage and can power major systems and appliances in a small business, including: HVAC, lights, security systems, computers, cash registers, coolers and more. Kohler's exclusive PowerBoost technology provides the necessary power to start large electrical loads without dropping other circuits or systems as they cycle on and off.
The 14/20 kW runs on natural gas or liquid propane, so there's no need for refueling during a power outage. In addition, the generator can be remotely monitored from a computer, tablet or smartphone using the OnCue Plus Wireless Generator Management System. The generator's compact, corrosion-resistant enclosure blends seamlessly with a building's exterior while its quiet, neighborhood-friendly operation reduces sound levels similar to a central air conditioning unit. Other features include:
Robust Kohler Command PRO engine, with three-phase operation running on natural gas or LP
Corrosion-resistant enclosure impacted tested to -30F
RDC2 digital controller
Compatible with RXT transfer switches and OnCue Plus® Generator Management System (GM81385-KP2-QS) and Programmable Interface Module (PIM)
CSA/EPA certifications
Five-year warranty
For more information, contact South Shore Generator in Wareham, MA.
Source: kohlerpower.com
---