October 9, 2023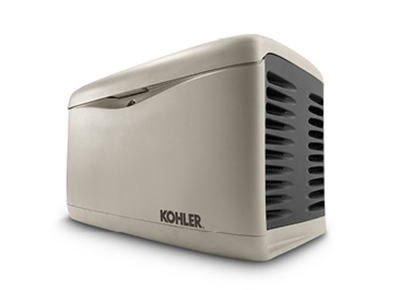 The simple answer to that question is no. Since standby generators are custom fit and permanently installed into your home, no two installations are alike. A site visit must be made by your generator dealer to inspect your property and existing systems before an accurate cost estimate can be given.
There are some obvious equipment costs to owning a Kohler standby generator, such as the cost of the generator, the transfer switch, and the options you choose. However, it's the installation work that influences cost the most.
There are many steps involved with installation, but there are three very important factors that drive the cost of installation:
LOCATION.The key to controlling installation costs is similar to the one for selling real estate: location, location, location. The more accessible the site is the less manpower it will take to get the unit set in place.
Just because your neighbor got a generator installed for X amount of dollars, don't assume you can get one for the same price. Yours may be more or less expensive - it all depends on the location.
When choosing a location for your generator, thought must be given to both aesthetics and functionality. Even though the new home generator enclosures look very nice in appearance, chances are you're not going to put it out in front of your home.
Ask yourself, "Where can the generator be located that it will fit in with the surrounding landscape, blend in with my home or business, and still be installed in a cost-effective manner?"
The level of the ground at the generator location is also important- the flatter the better. Your generator needs to be placed on top of a pad, so the more prep work it takes for your dealer to flatten the area for the pad, the more it will cost.
People are often tempted to stick a standby generator back in a corner somewhere or under a deck to hide it. This will not work as some generators are air-cooled and need adequate air flow around the units while they're running to keep from overheating.
As a result, we recommend that the standby generator be installed at least three feet away from any landscaping structure to aid with airflow and leave room for maintenance.
Additionally, for your own safety, the exhaust end of your generator must be kept at least five feet away from any landscaping structure, doors, and windows.
FUEL. When you purchase a Kohler standby generator, you can choose to fuel it with liquid propane gas (LPG) or natural gas (NG).
Again, location is key because the farther the fuel lines have to be run through a basement and/or crawl space, the more it will cost. Also, larger generators require more fuel and will need bigger piping, which also affects cost.
ELECTRICAL. The same goes for electrical lines. The further the distance from your generator, the automatic transfer switch, and your home, the more wiring will be needed. Again, larger generators require bigger wires. It's also important to note that the type of automatic transfer switch you have also influences cost because each model is installed differently.
Installation can be complicating because it often requires building permits and there are national and local codes that need to be met.
Now that you understand the different factors that influence the cost of owning a home generator, you can check out your own property and start to think about where you'd like to install one of your own.
South Shore Generator Sales & Service is a great resource and will be able to assist you, so give us a call or find the dealer nearest you to schedule your free consultation.
---