April 30, 2018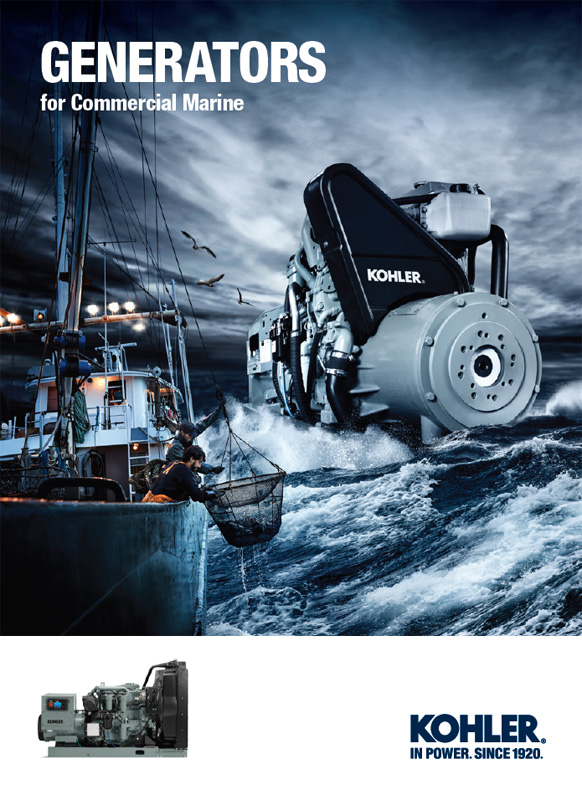 Kohler created the world's first commercial marine generators with factory installed, pretested paralleling controllers and automatic voltage regulators. Everything is automatic and easier to use than ever before.
Instant Auto Transfer/Paralleling
All Decision-Maker® 3500 controllers are equipped with auto-transfer functionality. When the first generator's load is light, the second generator automatically drops off. When the load is heavy, the second generator automatically comes online to provide the power needed to carry the load. Or if one generator is in trouble, the second generator senses the problem, starts up and takes the load automatically.
Repower-Ready
The Decision-Maker 3500 is compatible with existing systems, so repowers are easier than ever. When wired for V-bias/S-bias inputs or droop, it can parallel with existing load-share modules for even more installation options.
Remote Monitoring
Monitor and control your generators from your boat's existing monitoring system. Or enjoy a more comprehensive experience with generator-specific monitors from Kohler.
Proper Engine Combustion
Our electronically controlled high-pressure common rail fuel system provides just the right amount of fuel at just the right time.
Corrosion and Vibration Protection
Fully potted circuit boards and sealed connectors protect the controller and alternator from marine environmental conditions and heavy vibration.
Kohler-Made
Nearly every component is designed, built and serviced by Kohler. Just the way it should be.
It's all about your bottom line.
At the end of the day, all we care about is boosting your business. It's that simple.
That's why we created the Decision-Maker® 3500 controller. It eliminates the need for expensive, oversized switchgear, costly add-ons and complicated installations. Which means you save big on cost and space. Not only that, our new controllers feature auto-transfer functionality. If one generator is in trouble, the second generator senses the problem, starts up and takes on the load—automatically. You won't lift a finger. Your boat will never be dead in the water. And you can keep your business in business.
Why KOHLER®
Proven Reliability
We are a company of craftsmen guided by a single purpose: quality. Every KOHLER commercial marine generator is extensively quality-tested start to finish—before model release and before leaving the factory. The result is proven reliability.
No-Hassle Warranty
We cover the first year, with the option to extend to three years.
For more information, contact South Shore Generator in Wareham, MA.
Source: kohlerpower.com
---