April 24, 2017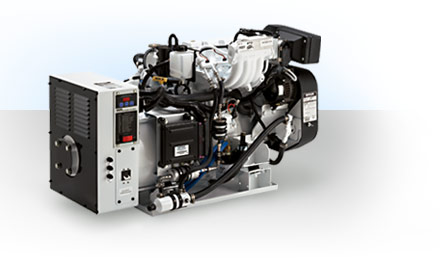 INVERTER OR GENERATOR?
Inverters change the DC power of the boat's batteries into AC power. They're compact and quiet but limited in output by the size of your bank of batteries and by the alternator's ability to keep up with the draw. Battery capacity should be at least three times the expected need between charges. Use inverters for short-term items such as coffeemakers and microwaves. Boats without air conditioning and loads in the 1,000-to-3,500-watt range can get by with inverters. However, for greater and longer power demands you will need a generator.
INVERTER/GENERATOR SYSTEMS
Save money by combining an inverter with a generator. When demands are low, use the inverter. When demands are high-such as when using air conditioning, freezers, and dishwashers-switch to the generator. You may be able to get by with a smaller, less expensive generator.
GAS OR DIESEL?
Match the generator's fuel needs with those of your main engines so you won't need a separate tank, necessitating extra trips to the fuel dock. Diesel is more expensive than gas but also more efficient. If you're buying a gas generator, it must be spark-free to avoid explosions. Also, you'll need to install extra cabin CO alarms.
ENGINE TYPE
Two-cylinder engines tend to vibrate. Four cylinder engines need to be counter-balanced to reduce vibrations. Three- and six-cylinder engines are naturally balanced and run smoothest.
RUNNING RPM
A generator will come to its designed voltage and frequency-60Hz in the United States and Canada-at a preset speed. For most generators, this will be at either 1200, 1800, or 3600 rpm. The 1200 models are large and heavy, and rarely used on pleasure craft. The 1800-rpm models are the most common. They're inexpensive, fuel efficient, quiet, and dependable. A 3600-rpm model might provide more power in a smaller and lighter package, but its high-revving design increases noise and decreases longevity. Consider adding the manufacturer's sound enclosures to minimize sound levels with a 3600-rpm unit.
ENGINE OR HYDRAULIC DRIVE
Hydraulic-drive generators are powered by a hydraulic pump on the main engine. The engine must be running to produce electricity. They're less expensive than self-powered models but are only suited to boats with intermittent power requirements or long-range cruisers that are under power most of the time.
OUTPUT
A generator that is too small will consistently trip breakers, wear out quicker, and possibly damage your electrical equipment. Too large a generator can also operate inefficiently, resulting in carbon buildup on the cylinder heads, and leaving unburned fuel in the exhaust. Never run with a load of 25 percent or less of the generator's output. From 40 to 75 percent is ideal.
ESTIMATING LOAD
List all the wattage requirements of the appliances on your boat. Figure you need the maximum possible load (in watts) to run appliances and lights. Remember, the wattage required to start a motor (on a refrigerator, freezer, or air conditioner) can be many times (up to 10) the normal running wattage. Starting wattage will be noted on the label with running wattage. Factor in this extra load.
COOLING
Most marine generators are water-cooled and can use one of three types of systems. Raw Water: Least expensive. This system circulates raw sea water through the engine. As a result, potential corrosion and contamination problems make them a poor choice for marine use. Heat Exchanger: Most common. Cool raw water is taken from outside the hull and continually passed over a series of coils that are part of the engine's closed freshwater cooling system. Only parts exposed to the raw water are vulnerable to excessive corrosion or contamination. Keel Cooled: This completely sealed freshwater system, foregoes the seawater cooling circuit, opting instead for the closed-loop, water-jacket circuit. A pump to move the coolant through a cooling grid located on the bottom of the boat. This keel cooler must be separate from the main engine's grid.
EASY ACCESS
Look for all common maintenance points, such as the dipstick, filters, and both oil and water fills, to be on one side of the generator body so they'll be close at hand.
SOUND ENCLOSURES
These reduce engine noise, but make access for maintenance difficult. Look for ones with removable panels so you don't have to remove the whole cover to do a small job.
CONTROLS
Typically, a separate unit mounted on top, or integrated within, the generator. Digital microprocessor controls offer significant diagnostic and monitoring capabilities compared to conventional relay controls.
ELECTRONIC FUEL INJECTION
Provides easier starting, lower emissions, and steadier running compared to carbureted engines. Get it.
AUTOMATIC SHUTOFF
Make sure the unit will shut off automatically if there's low oil pressure, high coolant temperature, loss of coolant flow, or high exhaust temperature in a wet exhaust system.
For more information, contact South Shore Generator.
Source: boatingmag.com
---