October 19, 2020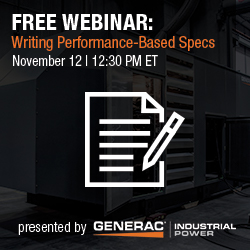 Join us for Generac's monthly interactive webinars! These informative 30-minute webinars answer the technical questions you need answers to and are a preview of the Professional Development Seminar Series courses offered by Generac. They also cover trends in the market, new useful tools that will help you be successful, and can be accessed online or on any mobile device.
Coming Up Next:
Writing Performance-Based Specs
There are many elements that need to be considered when writing specifications for engine generator sets. Join us for a 30 minute webinar where you'll learn in depth about these elements necessary to put together a comprehensive specification. We will define the scope of the applications along with relevant NEC and NFPA considerations.
Key genset performance measures – what's relevant and what's not
Options and accessories necessary to meet code and application fit
Application unique elements
Startup and commissioning requirements
Join us on November 12th, 12:30 PM ET


---