October 30, 2017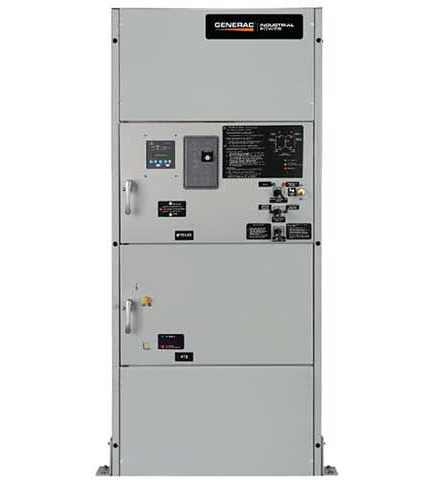 Introducing a new line of automatic transfer switches has allowed Generac Power Systems to expand its current product offering and improve the safety of operators and technicians in the field. The next wave of Power Series transfer switches, which include 100-1600-amp service entrance rated models and 2000-3000-amp non-service entrance rated contactor-based models, provide simplified mechanisms when compared to dual breaker products and promote safety with optional maintenance selector switches, which isolate control cabinets from on-site power sources.
While new service entrance-rated models feature 100 percent-rated circuit breakers with electronic trip capabilities and long/short time adjustments for instantaneous breaker coordination, non-service rated switches offer stored energy mechanisms that allow manual operation under load. Thanks to separate low- and high-voltage compartments, all models will also be able to minimize the potential for arc flash exposure during maintenance.
These additions are UL1008 and CSA rated, and feature the same controllers as other Power Series models. Equipped with the same LCD displays as existing Power Series transfer switches, these controllers enable easy programming, system diagnostics and help menu access to ensure ease-of-use for customers familiar with past controller models.
All switches feature in-phase or time delay neutrals and indicate switch operation with an easily understandable mimic diagram. A multi-tap control power transformer also allows each switch to be field converted if necessary. Other optional features include a digital multifunction power quality meter, remote annunciators, transient voltage surge suppression and Ethernet connectivity for integrating Building Management Systems.
Expanding the breadth of its automatic transfer switch options will allow Generac to efficiently support the needs of various backup power systems, including light industrial sites, emergency standby and critical power applications.
For more information, contact South Shore Generator in Wareham, MA.
Source: generac.com
---