October 3, 2022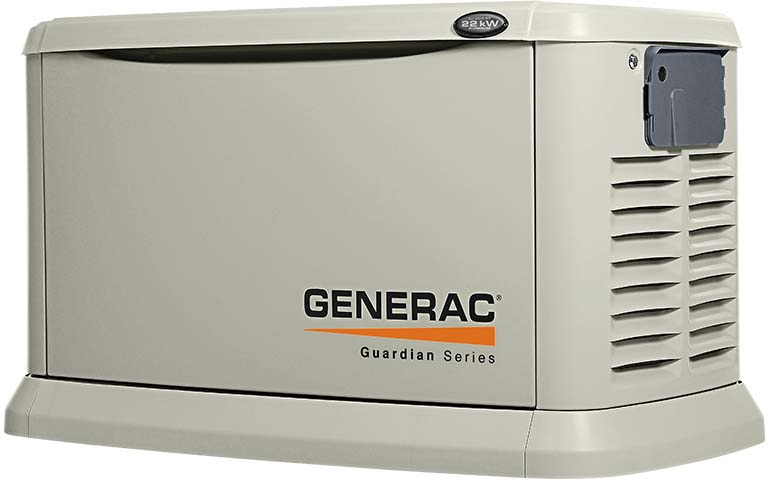 Whether you have a large home or property and want to untie yourself from the grid, or simply want to keep more than only your essential appliances operating on a portable or standby generator that'll eventually peter out a few days after disaster strikes your community, a whole house generator provides the power that you'll need.
The best time to buy a whole house generator is when you don't actually need one. Read on to see our five top-rated whole house generators and find out how you can keep your house fully powered anytime for any reason.
Generac got four picks in the top 5!
Generac Guardian Wi-Fi Enabled Standby Generator
As the leading home generator brand, Generac's Guardian series generators, once again, set them apart from competition. This Wi-Fi-enabled Guardian generator allows you to monitor its status via phone or computer from anywhere in the world using the company's MobileLink technology, all while providing 10,000 watts via liquid propane (LP) or 9,000 watts via natural gas (NG).
The generator is air-cooled, shuts down automatically in high temperatures and features an automatic transfer switch to take over powering your home the minute you lose grid-based power. Quickly and easily set up by professional installers, the Generac Guardian easily attaches to your existing LP or NG pipes and comes with a five-year limited warranty and 24/7/365 customer phone support.
Generac PowerPact 7,500 Watt Standby Generator
If you have a small home or need fewer watts of power, the Generac PowerPact 7,500 Watt Standby Generator is a great option. The PowerPact includes most of the same features as Generac's larger models while requiring the smallest footprint of those we've ranked.
You get what you pay for, though: this PowerPact only includes a three-year limited warranty and is one of the loudest options, measured at 69 dbA. The PowerPact includes a lightweight, indoor-rated automatic transfer switch and can power up to eight circuits of your home.
Generac Guardian 3-Phase 20kW Automatic Standby Generator Wi-Fi Enabled
The Generac Guardian 3-Phase 20kW generator is one of the largest, most powerful air-cooled 3-phase generators on the market. If your home or small business needs dependable 3-phase power back-up look no further than this Generac Guardian. This generator has all the features you've come to love of a Generac, easy-installation, Wi-Fi control and monitoring, and durable, all-weather construction that's built to last. With a noise level of 67 dbA, this unit's noise is impressively low for the level of power output. The only thing missing from this package is an automatic transfer switch, which is sold separately.
For more information, contact South Shore Generator Sales & Service.
Source: forbes.com
---