April 28, 2023
Kohler Co is pleased to announce that our 26kW RCA generator is now available for orders. The 26kW models extend our popular RCA product line by offering 30% more power from the same footprint as our other RCA models.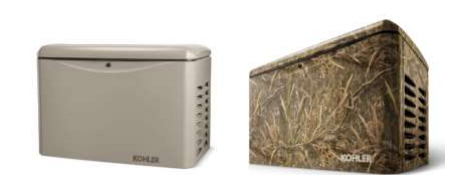 26RCA Features
The 26RCA will be the Quietest, Most Powerful and Most Durable 26kW air-cooled home standby generator available in the market.
Key Features available with the new models:
Quietest Air-Cooled Generator: 56 dB(A) at exercise
Most Powerful Air-cooled generator: 26kW (109A) LP / 24kW (100A) NG
Installed low oil shutoff sensor for max protection during long outages
24 hour oil check interval requirement
Personalization available with Mossy Oak® patterns
RDC2 Controller with OnCue Plus included
Factory installed Cold Weather kit available
5yr Premium Limited Warranty covering parts, labor and travel
More details on the 26RCA models can be found on Kohlerpower.com:
https://kohlerpower.com/en/residential/generators/product/26rca
https://kohlerpower.com/en/residential/generators/product/26rcal
26RCA Model Details
Six single phase 26RCA models will be available for order in the Product Catalog through the Dealer Portal with pricing shown below, including the Mossy Oak® Camouflage enclosures. Shipments are planned for Q3, 2023.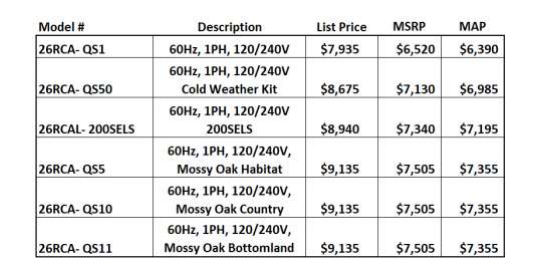 Two 30 minute webinars will be offered, on Tuesday, May 2 at 2:30pm CST and on Thursday, May 4 at 11:00am CST, to learn more information about this exciting new addition to the RCA family. If you would like to attend, please register for either of the webinars here:
May 2 - 26RCA Ready For Orders – 5/2 2:30pm CST

May 4 - 26RCA Ready For Orders – 5/4 11:00am CST

A meeting link will be sent to all attendees prior to the call.
---