September 11, 2023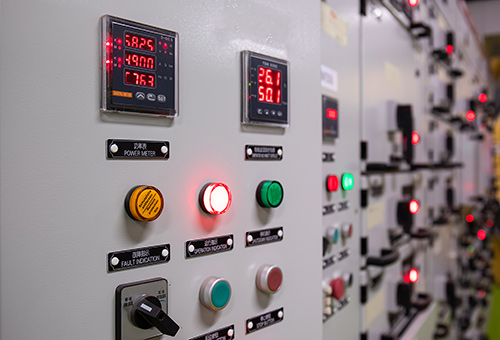 Installing a standby generator means that you'll have a reliable source of backup power should your power grid go down. However, the generator itself is only one part of the power source. Your generator also has to know when to turn on so that you enjoy an uninterrupted flow of power. That's where automatic transfer switches (ATS) come in.
WHAT IS AN AUTOMATIC TRANSFER SWITCH?
An automatic transfer switch (also known as a generator transfer switch) is a power switching device that constantly monitors your electricity levels. In the event of an outage, when your electricity levels fall, the switch will automatically transfer the load circuit to your generator, which will provide you with power until the grid is back up and running. This also saves you from having to go out into potentially dangerous weather to start your generator.
HOW AUTOMATIC TRANSFER SWITCHES WORK
The process an automatic transfer switch initiates is simple:
The normal utility power source, such as the power grid, fails.
The transfer switch automatically monitors utility loss and sends a signal to the generator to start.
Once the generator has sufficient power to support the home the automatic transfer switch trips the contactor and shifts the load to the emergency power source while monitoring voltage and frequency tolerances to make sure there isn't an overload of the system.
When the utility is restored, the load is moved from the emergency power source back to the primary power source.
WHY YOU NEED AN AUTOMATIC TRANSFER SWITCH
An automatic transfer switch monitors your power sources constantly. With an automatic transfer switch, your standby generator can automatically switch on and off as needed during a power outage so that there's no need for you to manually turn on the generator. This makes it both easier and safer to use your generator.
WHICH TYPE OF AUTOMATIC TRANSFER SWITCH WORKS FOR ME?
There are two main types of automatic transfer switches:
The first type contains only the transfer switch that manages the power source for a panel of circuit breakers. It can handle the power source for your entire home or just a few essential circuits.
The second type is called a load center automatic transfer switch, which contains both the circuit breakers and the switch itself in one integrated system.
You can choose your own automatic transfer switch, but most generator manufacturers, including Kohler, manufacture their own that are designed to be compatible with their generators. Typically, your authorized Kohler dealer can offer you insight into which type of ATS will work best with your generator, and you'll be able to order it directly through them. It's important to note that the automatic transfer switch will be old separately from the generator, so you'll need to incorporate that cost into your budget. You can find the MSRP for our automatic transfer switches here.
INSTALLING AN AUTOMATIC TRANSFER SWITCH
The installation of an automatic transfer switch is complicated and should be left to a professional. This ensures not only that your ATS functions properly, but also prevents any accidents that could occur when attempting the technical installation process. In addition, having it installed with your generator by a professional ensures that it's properly connected to and compatible with your generator. The automatic transfer switch will be connected to your home through your electrical panel so that it is directly connected to your home's power source and can monitor power levels accordingly.
THE BENEFITS OF AN AUTOMATIC TRANSFER SWITCH
Choosing your generator is only the first step in having reliable backup power. Knowing that your standby generator can turn on and off automatically without having to manually start your system is the perfect way to enjoy full peace of mind from your backup source. Explore our automatic transfer switches by contacting a South Shore Generator Sales & Service and ask about how you can select a system that works for your home.
---