June 23, 2023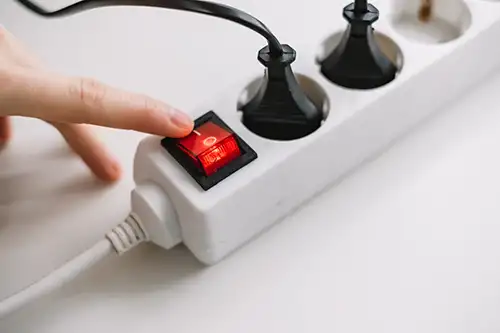 A power surge, caused by an electrical grid disruption, is a very common and frequently increasing problem within the United States. As the aging power grid's outdated infrastructure attempts to keep pace and survive against severe weather and exploding demand for electricity from a technology-driven population, the internal wiring of residential homes is being overloaded by electrical spikes and power surges. On a daily basis, expensive electronics such as computers, televisions and kitchen appliances, as well as washers, dryers and refrigerators are being destroyed and taken out of commission by preventable power surges and electrical spikes. This has left many people frustrated and angry, wondering if a whole house surge protector is a worthwhile investment?
Is a whole house surge protector worth the investment?
The simple answer in a nutshell is, YES ABSOLUTELY! When installed professionally by a qualified electrician, a whole home surge protector can potentially save you thousands of dollars over its initial purchase price and installation cost. First of all, you might immediately qualify for a discount from your insurance company against your home owner's insurance policy. Additionally, you could save many thousands of dollars in replacement costs for notoriously sensitive and expensive electrical devices such as:
Appliances like washers, dryers, refrigerators and fancy kitchen gadgets.
Home entertainment components like stereos, speakers, flat panel televisions, digital video recorders and dvd players.
Home office equipment like computers, laptops, printers, cell phones and answering machines.
Personal entertainment devices like tablets and gaming systems.
A whole house surge protector is also highly recommended and encouraged by the Insurance Institute for Business and Home Safety and the National Fire Protection Agency.
How often do power surges occur?
Power spikes and electrical surges are extremely common. The average home can expect to be hit by 20 or more power surges per day. About half of the power surges will enter the home from a outside source, while the other half will be generated from an internal source within the home. Additionally, cloud-to-ground lightning strikes occur over 20 million times annually within the continental United States. Typically, the damaged caused by a lightning strike and the resulting financial loss that is incurred by the home owner, is not covered by their home owner's insurance.
How does a whole home surge protector work?
Electricity always flows towards the ground, following the path of least resistance. Surge protectors, such as the Eaton 109420 Ultra Surge Protection 3rd Edition surge protector, are hardwired to your home's main load center and safely redirects the surge of excess electrical current directly to the ground. This prevents excessive electrical current from wreaking havoc by flowing into your home's electrical circuitry.
Where do power surges come from?
External sources of electrical surges and power spikes:
Lightning, which occurs more than 20 million times annually, can destroy electronics instantly.
Downed Power lines due to severe weather like tornados and hurricanes.
Power outages due to extreme weather. equipment failure, electrical repairs or construction.
High demand for electricity, causing rolling blackouts.
Internal sources of power spikes and electrical surges:
Major appliances cycling on and off throughout the day, causing low-level degradation of electrical circuitry in electronic devices.
Faulty wiring within the home, which can be prevented with a residential electrical inspection.
The ultimate in whole house surge protection..
Without hesitation, I am recommending the Eaton 109420 Ultra Surge Protection 3rd Edition surge protector for complete home surge protection that is unrivaled. This is a great product at an excellent price. Here are all of the specifications that put this surge protector before all other brands:
UL Certified under the UL 1449 3rd Edition and listed as a Transient Voltage Surge Suppressor (TVSS).
Modes of Protection: Line to Neutral (L-N), Neutral to Ground (N-G), Line to Ground (L-G) on both incoming lines and Line to Line (L-L).
Maximum Surge Current Capacity 108kA (The IEEE recommends that a service panel protector have a minimum rating of 20kA to 70kA (or for high lightning areas 40kA 110kA) per hot wire).
Short Circuit Current Rating (SCCR) 22kA
Voltage Protective Rating (VPR) L-N: 600V / L-G: 600V / L-L: 1000V / N-G: 800V
Maximum Continuous Operating Voltage (MCOV) L-N: 150V / L-G: 150V / L-L: 300V (A surge protector's MCOV should always be at least 15% above the of the system's nominal voltage for both L-N and L-L modes. For example, on a 120V/240V unit, the L-N MCOV should be at least 138V and the L-L MCOV should be at least 276V).
NEMA Type 4 Indoor or Outdoor Use (The National Electrical Manufacturers Association (NEMA) provides rating standards for electrical enclosures. The higher the NEMA enclosure type, the better they are at keeping out dirt, water, and other elements).
Contact South Shore Generator Sales & Service.
---