June 13, 2022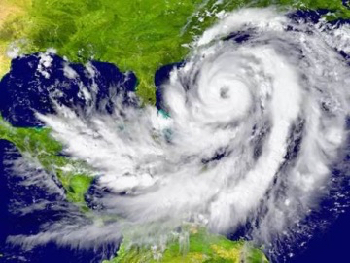 Creating and carrying out your hurricane preparedness plan doesn't have to be complicated. Here are some tips to help you create a plan that works for your household.
1. Determine Your Risk
The first step in preparing for any storm is determining how at-risk you are. This will likely change based on each storm's path, but hurricanes and their aftermath are unpredictable, so it always pays to be prepared. Based on your home's location, determine how likely you are to experience weather events like:
Strong winds
Flooding & rainfall
Storm surge
Rip currents
Tornadoes
Knowing your greatest risks will help you better understand what your hurricane prep plan should include.
2. Develop an Evacuation Plan
Even if you don't anticipate needing to evacuate, it's a good idea to have a plan in place. For those that live in an evacuation zone, making a plan is imperative. Here are some tips to ensure evacuation plans run smoothly and safely: Have a go bag with supplies, including important documents, cash, and food Plan more than one route as traffic may make it difficult to take the most common route Make sure your pets are included in your plans You can stay up to date and find evacuation routes, shelters and more with the Red Cross Hurricane app, available on Apple and Android devices Remember that evacuating doesn't always mean getting completely out of the storm's path, as that can sometimes mean traveling hundreds of miles. If you live in a flood prone area, evacuating to a friend or relative's home that is not prone to flooding may be sufficient. Write your plan down, make sure all members of your household understand it, and share it with loved ones so they know where you'll be and how to get in touch with you.
3. Assemble Disaster Supplies
Having a well-stocked emergency pantry and emergency preparedness kit are two of the most important things you can do to prepare for any inclement weather. Hurricanes often bring power outages and the inability to get supplies like groceries or medications. Your emergency pantry should have three days worth of non-perishable foods and three days of water per person in your household. Be sure to stock up on medications, first aid kit supplies, pet food and any other things your household needs in order to function for at least three days without power.
4. Check In on Your Insurance
It's no secret that hurricanes can cause serious damage. That's why it's important to make sure that your homeowner's or renter's insurance is up to date before hurricane season arrives. It's a good idea to review your policy each year, especially if you have completed any home improvement projects that have added value to your home. A quick call to your insurance provider to ensure you're properly covered can potentially save you thousands in the event that your home is damaged in the storm.
5. Prepare Your Home
Preparing your property for hurricane season may seem daunting, but it doesn't have to be. Trimming any trees that are close to your home, bringing any loose lawn furniture or decorations inside and moving your car to a safe location are three of the most effective ways to make your property safer. We also recommend keeping plywood, steel or aluminum panels on hand to board your windows and doors ahead of a storm. For areas that frequently experience hurricanes or severe storms, hurricane shutters and/or impact resistant windows is a smart investment.
6. Help Your Neighbor
When a storm strikes, it's important to stick together. Lend a hand in helping your neighbors prepare, check in with them during or after a storm and help each other clean up after the storm. You can even share your evacuation plans and contact information to better communicate with neighbors during and after a storm.
BE PREPARED WITH KOHLER GENERATORS
A KOHLER standby generator is the gold standard in power outage preparedness. Explore our generators and find your nearest authorized KOHLER dealer to take the first step toward backup power. Recommendations from NOAA and Red Cross.
---