October 4, 2016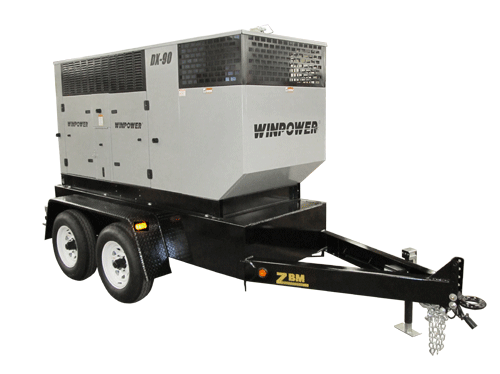 Tented events are an excellent way to experience the great outdoors all year round, even when weather is unpredictable or reaches extreme temperatures, but, how do you power all the equipment it takes to put on an outdoor wedding in the cold winter or in the heat of the summer? What do you use when an event requires 12 televisions, like an outdoor March Madness party?
Portable power generators come in all sizes for all kinds of events and are available to include in your equipment rental lineup.
Before deciding what kind of portable generator inventory your business should include, there are a few things to be aware of. There are many sizes and types of generators. Some units power a few small electronics and others power entire job sites. Some are portable and able to move with you, and some are standby units that are installed and remain in one location. Generators are run on liquid propane, natural gas, regular gasoline and diesel fuel.
Traditional uses for portable generators vary by their size, type and wattage output. The smallest portable generators are commonly used for personal recreational use, such as tailgating or camping.
Medium-sized portable generators can supply electrical power to homes when the utility power is down as well as to the remote job site, where utility power may not be available.
The largest portable generators are mobile, mounted on trailers and range widely in power output, from 10kW to more than 600kW. These units are powerful enough to supply reliable electricity to any large tented event, such as a county fair, music festival or large outdoor weddings.
Portable generators are what you will commonly rent, and there are multiple sizes and types. It also is important to note that for large events, in terms of attendees or the sprawling nature of the event space itself, multiple portable generators may be necessary.
How do you decide what generator you need? Here are three questions to ask yourself:
- What appliances and equipment will you have at the event? The more equipment, such as lighting, sound systems, air conditioners and refrigerators, at the event, the larger the generator will need to be. It's important to take note of and sum up the total number of appliances or devices that need electricity. Also, sensitive equipment, such as sound systems, will require care when determining the type of generator.

- How many people will be attending the event? Similar to determining an event's tent needs, the more people at the event, the more electricity is necessary to comfortably power the event.

- How long will the event last? In general, generators only run for as long as their fuel tank will allow. You will want to make sure the generator will have the fuel supply to run for the duration of the event. No one wants to fill a generator tank mid-party.
Once you have this information, South Shore Generator can help you decide on the right portable generator for your needs. Contact us.
Source: Rental Management Magazine
---