September 26, 2016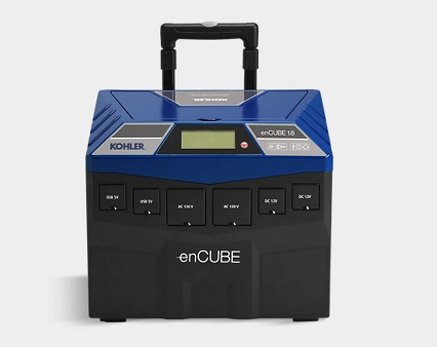 Portable power has been the domain of gas generators for decades, but battery-powered generators are starting to pop up, offering a cleaner option for DIYers, campers, and tailgaters.
A gas generator can keep chugging along as long as you have fuel, which makes it a better solution if you are without power for an extended period of time. But battery-powered generators have a whole host of cool tricks up their sleeves: indoor use, silent operation, easy 120V AC charging, clean power, and zero emissions.
Kohler has been in the generator business for over 80 years, and has just introduced its first battery-powered, indoor/outdoor generator solution, the enCube generator. The enCube delivers 1400 watts of continuous power and 1200 watt hours, that's enough to power your corded tools or keep your batteries charged. It has built-in GFCI, which prevents overloading and overheating the generator or your tools. There are onboard USB ports to charge smartphones, 12V DC ports for medium-sized gadgets, and multiple 120V AC outlets for larger electronics and appliances.
You can charge this unit from any standard 120V AC wall outlet or any solar panel, which makes it useful for travelers and all day tailgaters. Multiple units can be run parallel for even more runtime.
When it comes to emergency preparedness, it's still tough to recommend anything other than gas-powered backups, but for the casual user who needs portable power for camping or tailgating, these new battery-powered generators just might be worth it.
For more information on portable generators, contact South Shore Generator.
Source: Popular Mechanics
---