August 18, 2023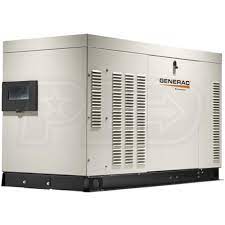 Introducing Generac's RG04524ANAX generator—the perfect combination of power and subtlety. This generator provides plenty of juice to run a single phase of your home or business—45 kW per hour, to be exact—but it's designed to run quietly and efficiently, so you don't need to worry about noise pollution or uncomfortably high energy costs.
This powerful protector series is designed to work with both natural gas and liquid propane fuel sources, so you won't have any problems finding what you need in order to make this generator work for your needs. It's also equipped with some great features, like:
A Heavy-duty Steel Enclosure that helps protect the engine from outdoor elements
A Liquid Cooled Engine for reliable performance in any weather conditions
Quiet-Test™ Self Test Mode that runs quieter than standard tests
Auto/Off/Exercise Power Management Switch for easy operation
Automatic Transfer Switch for seamless transitions between natural gas and propane fuel sources
In other words, this generator is packed full of features that make your life easier while protecting your home or business from power outages or other interruptions.
Benefits of the RG04524ANAX Generator
The RG04524ANAX Generator from Generac Protector Series offers a powerful, yet quiet solution in the quest for reliable home standby power. Featuring 45kW of powerful backup power, this Generator is an ideal choice for large homes, small businesses and light commercial applications.
Why choose the RG04524ANAX? Here are a few advantages of this generator:
Quiet: You won't even know it's there! This Generator is one of the quietest on the market at only 66 decibels—which is similar to a normal conversation.
Compact design: Despite its voltage size, this 48kW generator has a compact design which makes it easy to install and fit into most areas.
Fuel-efficient: The RG04524ANAX is designed with advanced fuel-saving technology that results in maximized efficiency and minimum diesel consumption in any condition.
Weatherproof enclosure: The patented enclosure of this generator has been proven to be both corrosion and weatherproof for long-term reliability—even under extreme conditions.
With all these features packed into one Generator, you can rest assured that your home will remain powered no matter what life throws at you!
Contact South Shore Generator Sales & Service.
Souce: powergeneratorblog.com
---