September 12, 2017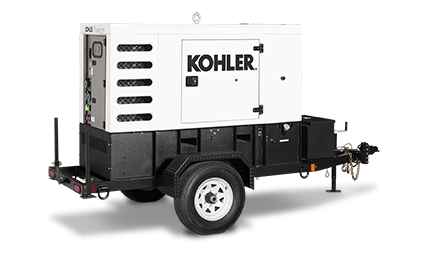 Quiet, reliable KOHLER® mobile generators give you dependable power anywhere, from remote construction sites to public events to storm recovery. Tough to the core, they're built to withstand the elements and run for long hours in prime and standby applications. They're loaded with features for power that work wherever you go.
Standard features:
Gaseous Mobile Generators
Innovative Propane Tank System - LP gas is reliable, readily available, refills just like diesel and produces less smog-producing carbon monoxide. Easily switch to natural gas or external propane for extended fuel supply.
GENERATOR PARALLELING BOX - The KOHLER Mobile Paralleling Box provides the flexibility to parallel any Tier 4 Final or gaseous KOHLER mobile generators to meet job requirements—without the need for expensive motorized breakers. And thanks to the paralleling intelligence built into the DEC3500 controller, each box can parallel two generators. Up to four paralleling boxes and eight generator sets can be connected to one distribution bus.
Lower Operating Costs - KOHLER mobile generators with gaseous engines offer a 15%-20% reduction in hourly fuel costs.
Behind every KOHLER® generator, there's a world of support. Thousands of distributors, sales and service locations, and parts distribution centers comprise our global network. And we back them all with instant online access to everything from parts information to product warranties.
For more information on mobile industrial generators, contact South Shore Generator in Wareham, MA.
Source: resources.kohler.com
---