September 8, 2023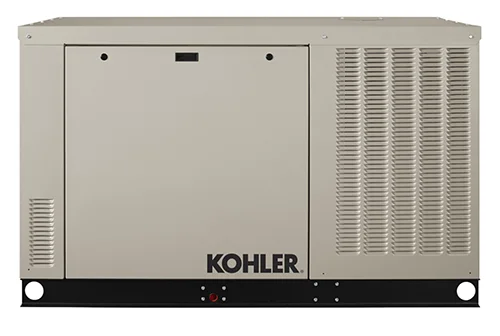 Have you ever considered getting a standby generator, but never committed because of how far out from the house it had to be installed? Well, you're in luck.
KOHLER recently expanded its line of home generators with new liquid-cooled units that install as close as 18 inches to a home—compared to the standard 5-foot clearance. This convenient feature now applies to all KOHLER® liquid-cooled RCL generators (24-60 kW). With the reduced clearance already available on KOHLER air-cooled units (10-20 kW), you now have a wide variety of backup power options that can be positioned close to your house. Sleek, discreet, and out of the way.
Being able to safely install the new generator closer to a structure allows us to bring secure, standby power to homeowners who have smaller lots or want a more discreet installation. Locating the generator closer to the house structure gives homeowners the ability to blend the unit with exterior decor, much like we see air-conditioner units within landscaped spaces.
But proximity isn't the only benefit. These new generators:
Withstand hurricane-force winds — up to 181 mph
Restore your power automatically
Perform a remarkably quiet weekly exercise at sound levels similar to a normal conversation
Feature a corrosion-resistant aluminum enclosure
Include a 5-year, 2000-hour limited warranty
FIND YOUR PERFECT GENERATOR
Why wait any longer? Experience the peace of mind and reliability only KOHLER generators provide. Contact South Shore Generator Sales & Services.
---