August 15, 2023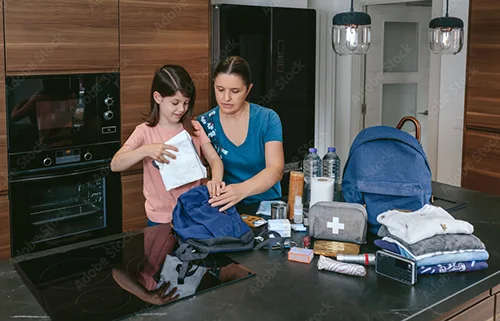 We all know how important emergency preparedness is, but it can be tricky to talk about something so serious with children. But talking about it is almost as important as the preparedness itself, since it can help reduce fear and anxiety, especially in younger kids. Children often thrive on a routine and an emergency can derail that, which may lead to some difficult emotions.
To help make these situations easier, we've compiled tips on how to speak to your kids before, during and after an emergency from trusted sources like Ready.gov, the CDC and the American Red Cross.
BEFORE
The best way to begin preparing your kids is by talking about the type of emergencies or severe weather your household is most likely to experience. Whether you're in a hurricane-prone area, live in tornado alley or live in a part of the country that is susceptible to wildfires, it's important to get your children familiar with what you might experience.
For example, if you're likely to experience a hurricane, you might explain what a hurricane is, how long it may last and that it involves high winds and lots of rain. Explain that you may lose power and that they'll need to stay in a safe spot in your home away from windows. In the event that you need to evacuate, be sure to outline the plan with your children and run through drills with them.
For emergencies that involve sheltering in place, let your kids help create your emergency prep kit and/or stock your emergency pantry. Allowing them to participate in this process will help them have a better understanding of the situation and ease feelings of anxiety knowing your household is prepared.
You can put a fun spin on things with Ready.gov's resources for kids, including preparedness games and a workbook.
DURING
In the midst of an emergency, your children will look to you for cues on how to act. While emotions and stress are sure to be running high, try to display feelings of calm and control. If your children see that you are scared, they are more likely to feel scared. While validating those feelings of fear is important (they're in a scary situation, after all) staying calm can benefit you and your little ones.
Since most children thrive on a routine and an emergency can derail that, your children may act out or become more anxious. This is normal and should subside once life is back to normal. If you have concerns about your child's behavior after an emergency, speak to your pediatrician.
AFTER
Whether the storm leaves a trail of damage or passes calmly, talking with your kids after the fact can help them process any emotions they're feeling and leave them more prepared in the event of another emergency. Let them know you're there to answer any questions or talk about anything that is on their mind.
Just like they did during the emergency, your children will likely look to you afterward for cues on how to act. By returning to your routine as best you can, you'll reassure them that everything is ok and life will go on.
BE PREPARED
No matter what Mother Nature has in store, we're here for you. Take your preparedness to the next level with backup power. Contact South Shore Generator Sales & Service today and discover the difference reliable backup power makes during an outage.
Source: Kohlerpower.com
---