October 17, 2023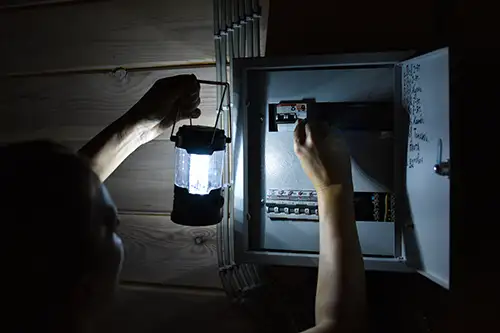 Getting caught in a power outage is never a fun experience, but even beyond the general inconvenience, a power outage can have other, more serious repercussions. When your home is deprived of electricity, there can be ripple effects that range from minor inconveniences to major repairs. Below, we've outlined a few of the most common costs that can be a direct result of a power outage.
1. COST OF FIXING DAMAGE
Power outages may lead to issues like water damage from burst pipes, food loss due to freezer/refrigeration not working and basement flood damage due to sump pump failure. Some of the more common damage associated with power outages are the following:
Burst Pipes - Cost up to $2,000, not including any resulting water damage
Flooding - Costs starting at $25,000 for just one inch of water for 2,500 sq. ft. home
Mold Removal - Cost ranges between $500 - $30,000
Appliance Repair - Average cost to repair a single appliance is between $200 - $500
2. LOSS OF FOOD
A family of four spends on average between $1,166 and $1,263.50 a month on groceries according to U.S.News. In addition, many households store large amounts of food in freestanding freezers or additional refrigerators, adding up to additional household food value. When the power goes out, all of the food in your fridge or freezer is at risk of thawing and spoiling.
3. COST OF ACCOMMODATIONS
If a power outage goes on for more than a couple of days, some people may need to take refuge in a hotel room or other alternative accommodations for comfort. A hotel costs, on average, $149.90 per night as of 2022, and if the power outage goes on for multiple days, that's another cost that can add up quickly.
4. LOSS OF EARNINGS
If the power is out at your place of work or at your home, you may be forced to forego your normal shifts or take a couple of days of unpaid leave because you won't be able to work. Based on the 2021 median household income ($70,784) in the US, that averages out to $259 lost per day for the household. So, not only are there additional expenses associated with a power outage, but there is the capacity for a loss of income as well.
5. COST OF ORDERING IN
With the power out, it's typically not possible to cook, particularly if you're trying to save your food by not opening the refrigerator. For most Americans, that means ordering in. The cost of ordering takeout averages about $13 per person, plus a delivery fee and a tip. That means for one meal, the cost for a family of four will be over $60. When you're talking about multiple days spent with the power out and multiple meals ordered per day, that bill can add up quickly.
While these types of costs are not necessarily going to be incurred every time the power goes out, when they do happen, they are unexpected and substantial. Risking damage to your home during a power outage is a stress you can do without, particularly when the entire experience of a power outage is so inconvenient.
Both your home and your family are affected when the power goes out in ways that can range from minor inconveniences to major damage. A standby generator can ease the uncertainty of an outage, as well as prevent damage from the power interruption. Depending on your home, you can choose a generator that will provide you with all the essential power you need to keep your family safe and comfortable during an outage. With the help from South Shore Generator Sales & Service, you'll be able to rest easy knowing that your home can sustain itself during an outage and that you'll never incur the unexpected cost of a power loss again.
---