July 26, 2022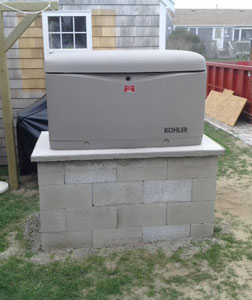 Any kind of weather can interrupt the fragile chain of electricity connecting your house to the power station. The right home generator can keep all of your essential and favorite electronic items working.
Emergency Power
A home generator can keep your refrigerator running, along with your lights, microwave, air conditioners, TVs, computers and cell-phone chargers — even the washer and dryer. It can significantly improve your ability to comfortably manage a power outage and quickly recover from a storm.
There are two basic types of generators to consider: stationary and portable.
Stationary Systems
In these systems, the generator is connected indirectly to a home's wiring system. They are most suitable for people who regularly experience long power outages or who have special requirements for continuous power.
Stationary systems typically run off natural or propane gas and have a "transfer switch" that allows you to select the equipment you want to be powered. It also prevents the generator from feeding power back into the utility supply system, endangering utility line workers.
In most areas, installing a backup system requires a permit and installation approval from an electrical inspector.
Portable Generators
These units run off a small gasoline engine and can power a limited number of lights and appliances via extension cords. Frequently used to provide emergency power during and after a storm, these units are easy to store and roll wherever you need them. A portable generator for this use can typically run for eight to 12 hours on a tank of gas and provide two to eight kilowatts or more.
Contact South Shore Generator Sales & Service for more information.
---