July 25, 2023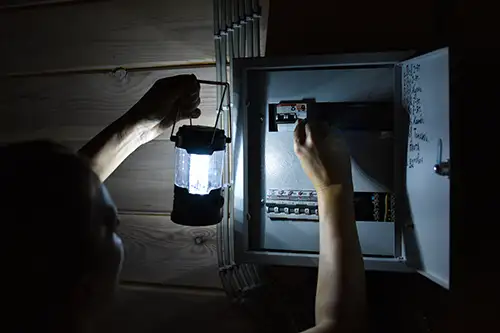 Extreme weather events are expected to become more frequent and more severe. What could this mean for electric grids in cities and towns across the country, and what about vulnerable people who rely on electricity for medical needs or otherwise?
How do we know extreme weather plays a part?
According to the University of Washington, eight hours without electricity is "widely viewed as medically relevant."
Between 2018 and 2020, the U.S. saw more than 17,000 of those long-term outages, and severe weather played a huge part.
More than 60% of eight-plus-hour outages occurred at the same time as a weather or climate event — a heat wave, a hurricane or something else.
With hurricane season upon us:
It doesn't take an intense hurricane. In 2012, Isaac was barely a Category 1 hurricane, but still left 47% of Louisiana customers (about 901,000 homes and businesses) without power, some for several days.
Hurricanes don't stop at the coast. They can spread damaging winds well inland. In 2008, damaging winds from the remnant of Hurricane Ike knocked out power to almost 2.6 million customers in Ohio alone.
A recent study of eastern Caribbean tropical cyclones over 30 years found in each case, the city was hotter and more humid after the storm, sometimes for multiple days. That's a major concern in areas left without power.
While hurricanes and tropical storms are not as common as other weather events, researchers found they're 13.7 times more likely to cause a long-term power outage.
But tropical cyclones aren't the only weather threat resulting in power outages.
According to researchers, lightning accompanied by heavy precipitation is the next type of weather, second to tropical cyclones, that is most likely to cause an extended power outage. Unlike tropical cyclones, lightning threat is not limited to specific regions.
Electric grids in the West are especially susceptible to snow and wildfires. Researchers say that during the months of September and October, wildfires were at least partly the cause of more than 75 percent of power outages in the West.
Almost all power outages, even short-term, have at least some relation to a weather or climate event. About 83% of U.S. power outages occurred at the same time as a weather or climate event in a study of data from 2018 through 2020.
It may be time to consider a backup generator. Contact South Shore Generator Sales & Service.
Source: weather.com
---