February 1, 2021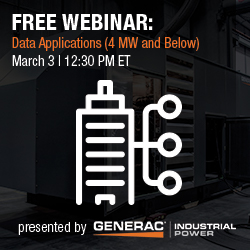 Join us for Generac's monthly interactive webinars! These informative 30-minute webinars answer the technical questions you need answers to and are a preview of the Professional Development Seminar Series courses offered by Generac. They also cover trends in the market, new useful tools that will help you be successful, and can be accessed online or on any mobile device.
Coming Up Next:
Data Applications (4 MW and Below)
Large scale data center applications tend to create a tremendous amount of interest due to their very significant scope, but from a power generation design standpoint they are rather basic. The base of design for large scale data is 2.5 to 3.0 MW single generators on a power bus with the ability to implement swing units. Though this implementation works well in the large applications, it doesn't create optimal solutions for on-site enterprise data or smaller start-up co-location applications. This webinar will focus on maximizing reliability while balancing cost and scalability concerns for applications below 4 MW.
Understanding the key requirements of data application design
How to maximize reliability while balancing cost and scalability concerns
Considerations when applying the concepts of the up-time institute tiers in smaller applications
Join us on March 3rd, 12:30 PM ET


---