March 17, 2022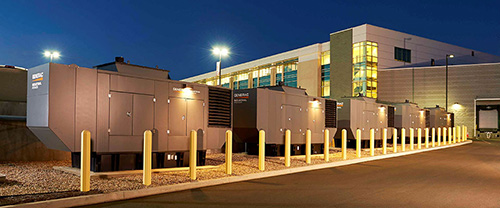 Back it up with Generac's MPS
Generac's proven Modular Power System (MPS) for paralleling generators offers data centers the power, redundancy, scalability, and safety required. One of the key advantages is that you can specify the backup system for the power you need now, not in the future. This allows you to spend more of your initial capital on servers and other equipment. As your power needs grow, it's easy to "add on" another generator to meet your growing needs.
The MPS approach does not require paralleling controls in dedicated third-party switchgear, so expansion generators can tie either directly to the generator bus or to a breaker on that bus. The generators do not have to be next to each other on a pad to be paralleled, so you can spread the field and your potential risk.
In addition, our MPS allows you to combine fuel options: diesel, natural gas, or even bi-fuel. This not only gives you the benefits of genset redundancy, you also have fuel redundancy. Natural gas relies on a strong underground pipeline network that is rarely impacted by weather or other crisis events—providing another critical advantage.
We can help you find the perfect backup generator for your business. For more information, contact South Shore Generator today.
---