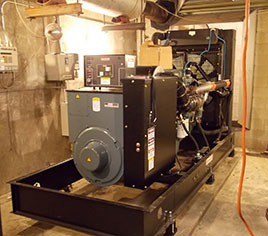 Boston Christian Science Center Required a New Generator.
South Shore Generator's Solution:
We're proud to have been selected to coordinate and install the Generac 450kw genset generator for the Boston Christian Science Center. It was a bit tricky getting the extremely heavy units in and out through an air louver opening. We removed the louver, disconnected the units electrical, exhaust, and fuel lines and removed the radiator. With the help of our friends over at NC Hudon Crane & Rigging out of New Bedford, we were able to maneuver the over 5 ton units out, and the new back into the generator room. We reconnected with new ductwork and custom exhaust, and electrical. We upgraded the fuel system with a new diesel fuel day tank system by our friends over at Mecco Environmental out of Weymouth. Finally we load bank and load tested the unit. We're proud and excited to say everything worked as designed.